TWM Interferometer
Maker:Tecnar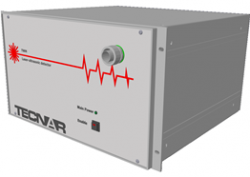 Tecnar's TWM is a complete turnkey non-contact ultrasonic detection unit that enables measurements with a flexibility not achievable with conventional systems. By using laser light to carry the information, the TWM enables ultrasonic inspection on moving and on hot components, hot materials and in harsh environments, even in vacuum conditions.
The TWM is based on real-time holography recording in a photorefractive crystal. The recording process enables the TWM to 'filter out' environmental noise and vibration without any active feedback process.
The TWM is available in two versions. The Fast Response TWM is optimized to provide the fastest response of the holographic process. The unit is best suited for rapid moving targets or for use in high noise environment, such as a steel mill. The High Sensitivity TWM is optimized to provide the maximum sensitivity to ultrasonic displacements. The unit is best suited for research centres and characterization applications.
TWM Characteristics
Principle
Two-wave beam mixing in a photorefractive crystal
Low-frequency cut-off 
500 kHz standard
100 kHz optional
High-frequency cut-off
15 MHz standard
75, 100, 350 MHz optional
Electronics
Programmable internal delay generator for triggering of data acquisition,
pulsed generation laser and pulsed detection laser
Dimensions
Body: 75 × 51 × 21 cm
Laser controller: 34 × 34 × 13 cm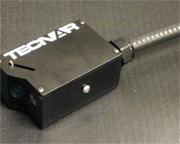 TWM applications
Online wall thickness measurement on hot steel
Grain size measurement in metal under stress and thermal cycling
Crack detection in difficult to access locations
Low ultrasonic frequency analysis
Defect detection in aerospace parts
Products