CIVA-EC – Eddy Current Simulation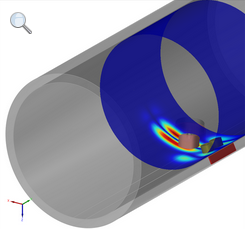 Maker:CEA
Using computer simulation for studying the interaction of an Eddy current probe field with a sample allows developing adequate transducers and their application methods and increasing the reliability of the obtained results, while at the same time keeping the development costs low. Eddy current inspection simulation by CIVA is based on powerful software modules for step-by-step simulation of the entire inspection process:
Specimen definition: By using simple, predefined specimen models to complex CAD files based specimen characterizations
Eddy current field computation: Using every type of practically relevant EC probes
EC inspection simulation: For electromagnetic field calculation resulting from the interaction of the probe field with the electrically conductive specimen
Specimen definition

Geometries: Planar (multilayer possible), cylindrical, multilayer fastened plates, expanded tube with tube sheet or 2D CAD profile
Materials: User defined conductivity and relative permeability of the components. Predefined material data base available.
EC field computation

CIVA is prepared for calculating the electromagnetic field of a large variety of commercially available probes, as well as the interaction of the generated field with the specimen.

Probe types for inspection of planar samples: Numerous coil shapes available, such as cylindrical, rectangular, D-coil, racetrack, meander, spiral circular and rectangular, …
Probe types for inspection of tubular samples: Rotating probes with various shapes, such as +point like, rototest like, bobbin coil; encircling coil, …
Special sensor types: GMR like magnetic sensors, Eddy current arrays, single or multi-element EMAT probes
Combination of sensors: Multi-sensor and multi-frequency analysis possible
Special effects: Lift-off and probe tilt influence can be studied
EC inspection simulation

CIVA simulates the interaction of the electromagnetic field with the specimen (with or without flaws) defined by the user.
Defect types: Flat bottom holes, longitudinal and transverse notches, grooves, parallelepiped flaws, semi-elliptical or quarter-elliptical notches, fretting wear
Flaw types: Void, metallic inclusion
Defect number: Single defect, multiple defects
Flaw location: Surface breaking or sub-surface
Result display: Eddy current density, electric field, magnetic induction, normalized impedance diagram
Products